2017 Ringier Technology Innovation Awards – Metalworking Industry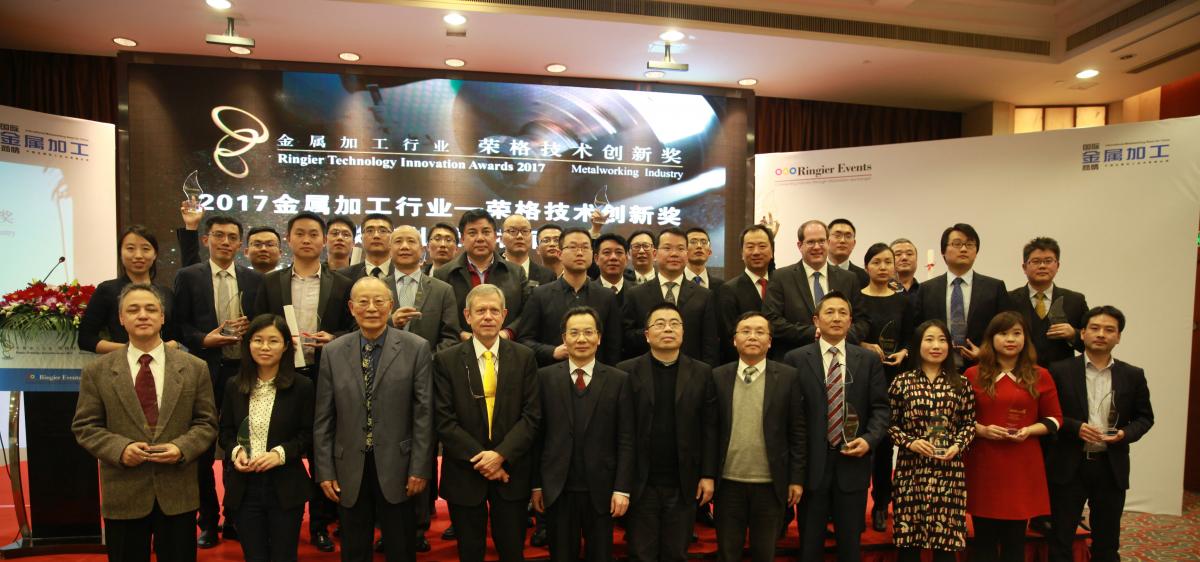 (Shanghai, PRC – October 19, 2016) - 2017 Ringier Technology Innovation Awards - Metalworking Industry award ceremony was held in Crowne Plaza Century Park Shanghaig on Mar.13, 2017. Altogether more than 60 guests including winners, judges and industry media were present at the ceremony. For more information about Ringier Technology Innovation Awards, please click here to watch the video!
Awards Categories
Metal Cutting Machine Tools (Turning, Milling, Boring, Grinding, Gear Machining)
Metal Forming Machine Tools (Sheet Metal, Wire and Tube Processing Machines)
Special Manufacturing Technology (Laser Cutting, EDM, PAM, ECM)
Tools, Abrasives, Clamping Devices, Measuring Tools and System
CAD/CAM/CAE Software, CNC system and other processing system
Functional Tools and Accessories (include Lasers)
Fluid Coolant and Lubricant
Automation
Other products or technologies
Selection & Judging Process
1st Stage: Entry & Nomination | (Entries Close: 

December 23, 2016

)

The Awards is open to any company with an innovative product/technology. The panel of judges may also nominate companies.

2nd Stage: Voting & Judging | (

December 28,2016~January 16,2017

)

Entries for each innovation Awards category are short-listed by the panel of judges. The public can vote for the winners via the official website or wechat platform "RingierMetalworking" of the Awards and the final winners list is selected by the panel of judges based on serious review, evaluation and the voting results.

3rd Stage: Winners Announcement & Awards Ceremony| ( Awards Ceremony:

March 13, 2017

)

Winners will be announced at the Awards ceremony on March 13,2017. The Awards ceremony will bring together the winners, judges, industry professionals and media.
Selection & Judging
The nominated products must be a new product or technology launched during 2015-2016 for China's Metalworking Industry;
Entry must be relevant to China and in the forefront of the international metalworking industry, and have helped take China's metalworking industry to new levels;
Entry should have provided great impetus to metalworking industry development, and have been widely introduced, applied and promoted. The impetus includes increasing productivity, improving product performance and effectiveness and creating market opportunities;
Entry must be green and environment – friendly;
The nominated products should have the standardized and modular design concept, distinguished compatibility and own flexibility to complete different tasks;
The nominated products should have user-friendly interfaces, which can be easily operated and maintained.
Why You Should Enter?
        Launched in 2006, Ringier Technology Innovation Awards have already become one of the most influential industrial Awards in China because of its neutral judging process. There are many benefits from entering the Awards including:
Widespread recognition of product/technology innovation;
Build up an extensive & valuable relationships with China's market experts and industry leaders at the Awards ceremony. Reach high-profile decision-makers and target buyers with large purchasing power;
An excellent opportunity for publicity and year-round promotion in greater China through Ringier's multi-media platforms of magazines, online and mobile marketing (iPad/iPhone and Android Apps) as well as coverage in other major industrial media.
Widespread Media Coverage