2017 ROI INDUSTRY 4.0 AWARDS CHINA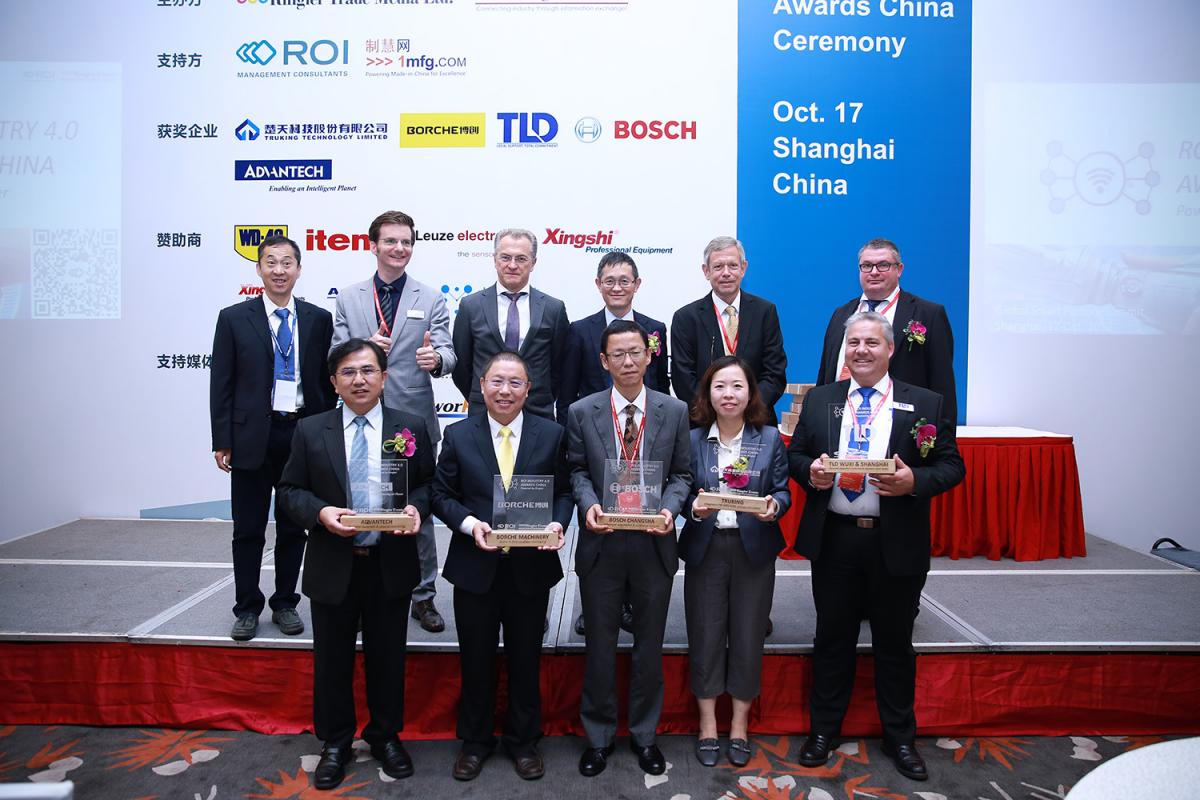 The ROI Industry 4.0 Awards have been carried out in Germany since 2013 to honor industry 4.0 solutions in the manufacturing industry.The participants of the competition were companies, that successfully implemented 4.0 solutions in their production system, either as a whole or within a defined pilot section. To honor industrial progress in China, in 2017 ROI & ringierevents bring the Awards to China. Decided it is. In total, 30 companies had signed up for the competition, 15 passing to the second round and examined in detail, and on-site visits were carried out to a short list of 6 finalists. And out of those, the 5 Winners of the ROI Industry were chosen, during the Award Ceremony on Oct. 17th at the Longemont Shanghai.
At the same time the Global Smart Factory Summit 2017 was held with more than 150 industry experts from the end user enterprises of automotive, electronics, machinery, etc., servo systemsuppliers, software equipment vendors, government, associations and media gathered together to discuss thelatest market trends intechnology, processing and application in smart factory.

Awards Categories
If you have implemented Industry 4.0 like use cases in your production system, for example in the area of human-machine interaction, robotics & automation, apps & assistance systems, big data analytics (e.g. preventive maintenance), real-time condition monitoring, smart tools, material tracking & tracing, 3D printing, real-time utility consumption ,  … and your team has done a great job which deserves praise and recognition, then apply.
Selection & Judging Process
1st Stage: Entry & Nomination | (Entries Close: July 28, 2017)
The Awards is open to any company with an innovative product/technology. The panel of judges may also nominate companies.
2nd Stage:Judging | (August 1-September 17, 2017)
Entries for each innovation Awards category are short listed by the panel of judges.
3rd Stage: Winners Announcement & Awards Ceremony | ( Awards Ceremony: October 17, 2017)
Winners will be announced at the Awards ceremony on October 17, 2017 which will be held in conjuction with Global Smart Factory Summit 2017. The Awards ceremony will bring together the winners, judges, industry professionals and media.
Selection & Judging
ROI INDUSTRY 4.0 AWARDS CHINA was conducted by professional judges' panel on all eligible after comprehensive assessment of the projects, resulting in creation of the Second Stage list and then, after careful assessment during visitation to the site as well as filling specialist questionnaire to rate the project, the winners were chosen.ROI INDUSTRY 4.0 AWARDS are a proof of international recognition to the innovative solutions implemented by Chinese manufacturers.
Panel Of Judges - ROI Industry 4.0 Awards China
PROF. ZHANG WEIMIN, TONGJI UNIVERSITY
Prof. Zhang Weimin is Director of Institute of Advanced Manufacturing Technology of School of Mechanical Engineering and Chair Professor of MAG - Endowment Chair for Manufacturing Technology of Sino-German School for Postgraduate Studies (CDHK), Tongji University. Prof. Zhang is engaged in teaching and scientific research in field of advanced manufacturing technology and automation. He obtained his PhD degree in Mechanical Engineering from Tongji University in 1999.
DR.-ING DU PINSHENG, PHOENIX CONTACT
Dr.Du Pinsheng is Vice President and Chief Engineer of Phoenix Contact China. To advance industrial progress he is active in a broad range of associations and committees, most notably being a council member of the Chinese Association of Automation, a standing director of the Nanjing Instrumentation and Automation Association, and a standing director of the Shanghai Association for System Simulation. 
DR.-ING. CLAUS KOBIALKA, NGC GEARS
Dr.-Ing. Claus Kobialka was born in 1967. After his diploma graduation at the Aachen University in mechanical engineering he graduated to a PHD at the same institute, the WZL, in 2001. He has held a number of positions in the machine tool and gearing industries, most recently as director of product management for gear premachining solutions. He has authored a number of papers on gear processing and technology. Also he is registered as the inventor of a larger amount of international valid patents. Beside this he has been engaged in several committees for gear process developments at FVA and VDW.
Erik Walenza is the CEO of IoT ONE, the Chair of the Industrial Internet Consortium's Smart Factory Task Group (IIC SFTG), and the Director of Startup Grind (Shanghai). IoT ONE is the largest online database of Industrial Internet of Things vendors and case studies. Erik holds an MBA and an MA in International Affairs from a joint program between the George Washington University and Fudan University.
Timo Schneemann is Vice General Manager of ROI in China. He has extensive experience in holistic Lean Transformation, from the implementation of first pilot projects to a complete re-layout of the factory. Specific industry experience cover automotive, electronics, and white goods, where he realized productivity improvements of 20% – 60%. Mr. Schneemann is Dipl.-Ing(FH) Mechanical Engineering and studied in Cologne, Germany.
SHADOW YANG, RINGIER TRADE MEDIA Ltd.
Shadow Yang is Deputy Industry Research Director of Ringier Trade Media. She has joined Ringier over 7 years and focus on the reports around efficiency\cost\automation\Industrial 4.0 and 'Made in China 2025'. She has been invited to the modern factory in Europe, USA and ASIA. Mrs. Yang is Bachelor of Management information System(MIS) and studied in ECUST, China.
Why You Should Enter?
The Awards is widely promoted among industry leaders and professionals through Ringier's multi-media platform of magazine, online, mobile marketing (iPad/iPhone, Android Apps), as well as other major industrial and general media.
Widespread Media Coverage
Ringier Trade Media - Metalworking/Laser/Food&beverage
http://www.ringierevents.cn/innovation/industry4
http://www.industrysourcing.com/
http://www.processonline.com.au/content/business/news/advantech-wins-ind...
http://www.gongkong.com/news/201710/370249.html