2018 ROI INDUSTRY 4.0 AWARDS CHINA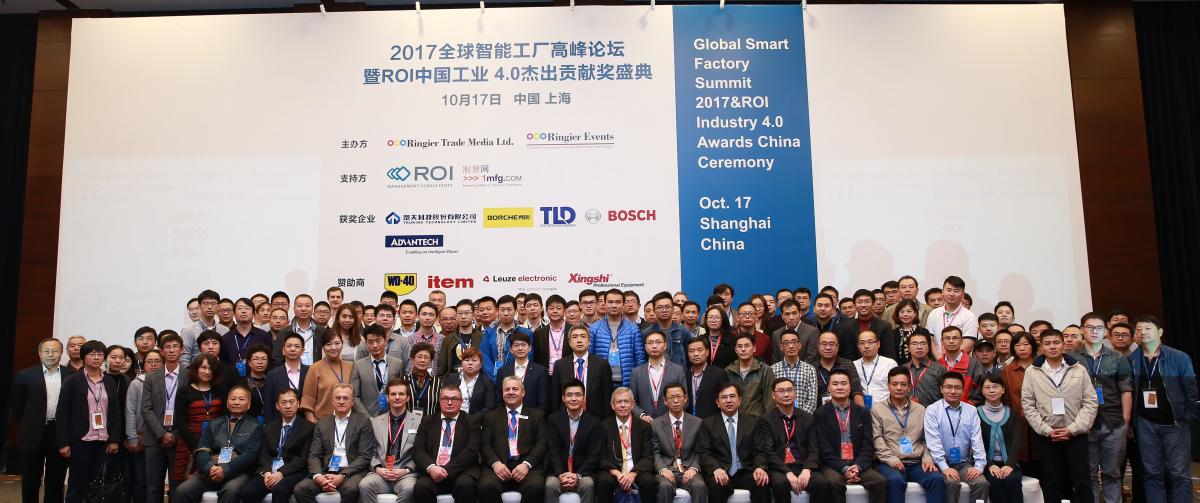 The ROI INDUSTRY 4.0 AWARDS have been carried out in Germany since 2013 to honor industrial progress.
The target group of the Awards are producing companies who have added industry 4.0-like capabilities to their business, either as a whole or within a defined pilot section.
In 2017 ROI & Ringierevents have carried out the Awards in China for
the first time
, and due to the  outstanding resonance in the community continue with another round of the Awards in 2018.
For more info, please contact:
Ms. Rose Lu
T. 86-021-62895533*359 / 18321026762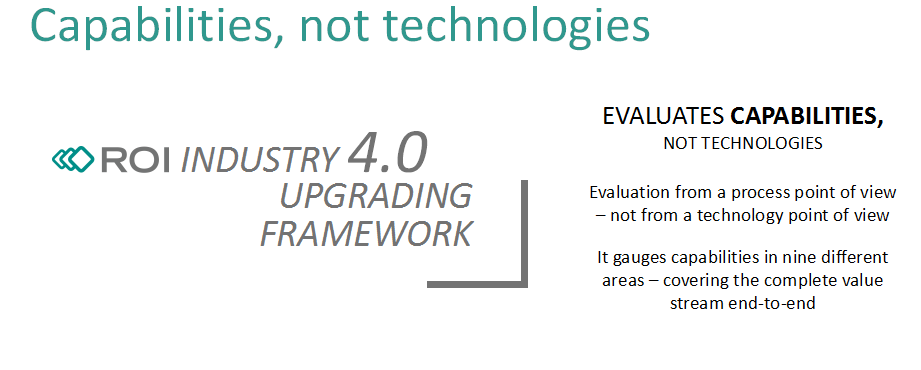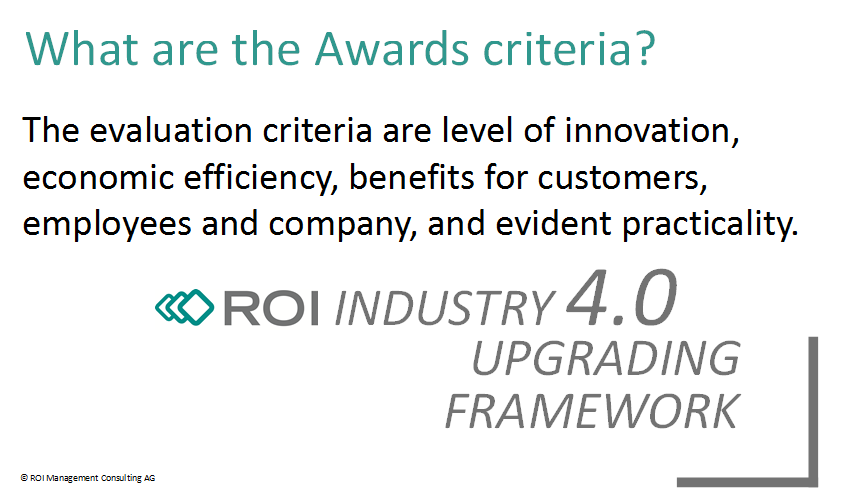 Awards Categories
The target group for the Awards are producing companies who have upgraded their business with industry 4.0-like capabilities, either as a whole or within a defined pilot section. For example, such capability upgrades could be in the area of
human-machine interaction (e.g. augmented reality), robotics & automation, apps & assistance systems, data analytics (e.g. preventive maintenance), real-time data (e.g. condition monitoring), smart tools, material tracking & tracing, simulations, machine learning/AI, or 3D printing
. 
If your team has done a great job which deserves praise and recognition, then apply.
Selection & Judging Process
1st Stage: Entry & Nomination | (Entries Close: June 27, 2018)
The Awards is open to any company with an innovative product/technology. The panel of judges may also nominate companies.
For more info, please contact:
Ms.Rose Lu
T. 86-021-62895533*359 / 18321026762
Ms.Janet Jiang
T. 86-021-62895533*223
2nd Stage:Judging | (June 30-September 14, 2018)
Entries for each innovation Awards category are short listed by the panel of judges.
3rd Stage: Winners Announcement & Awards Ceremony | ( Awards Ceremony: Nov 16, 2018)
Winners will be announced at the Awards ceremony on October 30, 2018 which will be held in conjuction with Global Smart Factory Summit 2017. The Awards ceremony will bring together the winners, judges, industry professionals and media.
Selection & Judging
ROI INDUSTRY 4.0 AWARDS CHINA was conducted by professional judges' panel on all eligible after comprehensive assessment of the projects, resulting in creation of the Second Stage list and then, after careful assessment during visitation to the site as well as filling specialist questionnaire to rate the project, the winners were chosen.ROI INDUSTRY 4.0 AWARDS are a proof of international recognition to the innovative solutions implemented by Chinese manufacturers.
Panel Of Judges - ROI Industry 4.0 Awards China
PROF. XIANGQUN CHEN, BEIJING UNIVERSITY
Prof.Chen Xiangqun is PhD Tutor and Party Secretary of School of Software and Microelectronics, Peking University, Vice Director of Technical Committee on Education of China Computer Federation (CCF TCEDU), and Vice Chairman and Secretary General of Beijing Computer Federation. Prof. Chen is engaged in scientific research and teaching in the field of system software, software engineering, Smart phone application, and intelligent robot. She obtained her master's degree in Computer Science and Technology from Peking University in 1986.
As Associate Vice President of Advantech's Manufacturing , Jamie's main responsibility is to manage the company's manufacturing centers in Taipei and Kunshan. Leading the implementation of the Industry 4.0 initiative, they have created practical production innovations by integrating Advantech's own IoT products with customized solutions, thereby transforming traditional processes into a more intelligent and digitized form of manufacturing. These innovations have been packaged into IoT solution-ready platform offerings, which continue to help customers and partners advance toward a more intelligent approach to manufacturing.
Having graduated from the University of Sydney, Australia, with double degrees in Mechatronics Engineering and Computer Science, Jamie also received an EMBA from the University of New South Wales. Previous work experience includes positions with GE Capital and Schlumberger in Sydney, Australia.
Michael Hackl is the General Manager of infoteam Software in Suzhou which is a high-technology software company for Industry 4.0 solutions. Meanwhile infoteam has a lot of partnerships with famous companies in China to bring a complete Industry 4.0 business solution to Chinese production companies according "Made in China 2025". Mr. Hackl holds an MBA in General Management and a Bachelor in Software Engineering and Economy. Having rich practical experiences in areas as industrial & customs application software development; Telecommunications equipment; New energy projects; Automated warehouse solutions; Quality inspection supervision and Industrial Internet of Things as well as Big Data analysis.
Georg Stieler is the Managing Director of STM China. STM is a German consulting firm providing market insights and business development services for technology companies. Mr. Stieler started STM's office in Shanghai in 2011. Together with his team, he supports suppliers and operators of robotics, sensors and CNC-systems in the region. He constitutes the base for STMs extensive knowledge about the Chinese automation industry and has become one of the leading independent experts in this field. In this function, Georg frequently lends his expertise to investors and startups from Europe, the US and China.
Mr.Stieler serves as a member of the Advisory Board of Motus Operandi, a softwarecompany for smart robotics motion from Hong Kong.
Mr.Stieler is frequently being quoted on the Industrial IoT by leading German and international publications (Frankfurter Allgemeine Zeitung, Handelsblatt, Wirtschaftswoche, Robotics Business Review, OECD, etc.) and is a prominent speaker (e.g. Industrial Internet Consortium (IIC), LiveWorx Boston, RoboBusiness Conference Silicon Valley, the German Engineering Federation(VDMA), the German Electrical and Electronical Manufacturers' Association(ZVEI), TEDx Shanghai, etc.).
He studied business and economics at the University of Mannheim, Tongji University Shanghai and graduated with a B.A. in Corporate Management & Economics from Zeppelin University Friedrichshafen.
Timo Schneemann is Vice General Manager of ROI in China. His expertise covers all areas of operations improvement, and in 14 years of practice has repeatedly achieved productivity increases of 20% – 60%, lead time reduction of 40% – 80%, and increase of overall equipment effectiveness of 8% – 30%. His industry focusis automotive, electronics, and white goods. He is the lead designer of the ROI INDUSTRY 4.0 UPGRADING FRAMEWORK, a capability (and not technology) oriented approach to increase operations performance by adding Industry 4.0 type capabilities without the risk to optimize disconnected islands.
Mr.Schneemann is Dipl.-Ing(FH) Mechanical Engineering and studied in Cologne,Germany.
Lora Xie is the director of Industry Research Dept. in Ringier Trade Media Ltd. With her professional background in science and engineering, Ms. Xie worked as amanaging editor and associate managing editor for many industries in domesticor international large-scale media groups, with plenty experiences andknowledges about modern manufacturing, smart factory and industry 4.0.During her 11-year working in Ringier Trade Media, Ms. Xie created several high-quality tech magazines for different industries and had received popular acclaim. She is leading a strong team to provide industrial readers with the highest quality, valuable editorial contents and information. Ms. Xie owns a bachelor degree of Industrial Electrical Automation from Nanchang University in China.
Why You Should Enter?
The Awards is widely promoted among industry leaders and professionals through Ringier's multi-media platform of magazine, online, mobile marketing (iPad/iPhone, Android Apps), as well as other major industrial and general media.
Widespread Media Coverage
Ringier Trade Media - Metalworking/Laser/Food&beverage
http://www.ringierevents.cn/innovation/industry4
http://www.industrysourcing.com/
http://www.processonline.com.au/content/business/news/advantech-wins-ind...