Ringier Trade Media inks MOU with VASI
Date Published:10/23/2018 03:10:15 下午
Ringier Trade Media President Mr Mike Hay and Vietnam Association of Supporting Industries (VASI) President Mr Le Duong Quang have entered into a Memorandum of Understanding (MOU) agreement recently.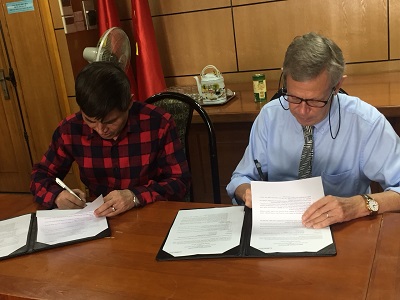 As part of the agreement, VASI will be co-organizer of ASEAN Automotive & Motorcycle Parts Manufacturing Summit 2019 happening on April 2 & 3, 2019 at Hanoi Daewoo Hotel, Hanoi, Vietnam.
The members of VASI comprising of most active Vietnamese manufacturers will attend this summit. Speakers from Ministry of Industry and Trade (MOIT), Vietnam Association of Supporting Industries (VASI), Ministry of Science and Technology (MOST), VinFast and Truong Hai Auto Corporation (THACO), etc. will share with you the latest market trends and prospects.
Organized by Ringier Trade Media Ltd, the attendants of the Summit are automotive and motorcycle parts manufactures- in one of the fields of metalworking or plastics components/parts manufacturing.
Vietnam's GDP growth rate has maintained outstandingly above 6% in recent years. With the introduction of ASEAN Economic Community (AEC) since the end of 2015 and completion of FTAs, Vietnam effectively reaped the benefits and integrated its local market with the global community – making the country one of the most popular location for foreign investment and starting up factories.
Automobile market
After Vietnam opened its market to ASEAN nations for tax-free import in 2018, a large number of cars from Thailand and Indonesia were imported, which changed the ecosystem in ASEAN automobile industry. Vietnam's domestic auto parts manufacturers are bound to face increasingly fierce competition from imported products. The Vietnamese government values the automobile industry as one of the main pillars that drives their economy, it will thus empower its domestic manufacturing power through tax rate adjustment, making domestic produced vehicles more competitive in pricing. In the future, Vietnamese manufacturers will need to reduce their production costs as well as assembly cost, improve product and service quality. This provides a unique opportunity for the Greater China suppliers to tap into Vietnam's supply chain that is originally dominated by Japanese businesses.
Motorcycles market
Vietnam is the world's fourth largest motorcycles market, assembling around 2 million new motorcycles each year, with more than 15 million existing vehicles demanding maintenance. This reflects the enormous market potential in motorcycles components and parts.