Probiotics – the Bull Market of Asia's F&B Sector
Date Published:7/2/2020 11:07:27 上午
Leading manufacturers join Ringier Events online conference to share the potential of probiotics in providing healthier food and beverage.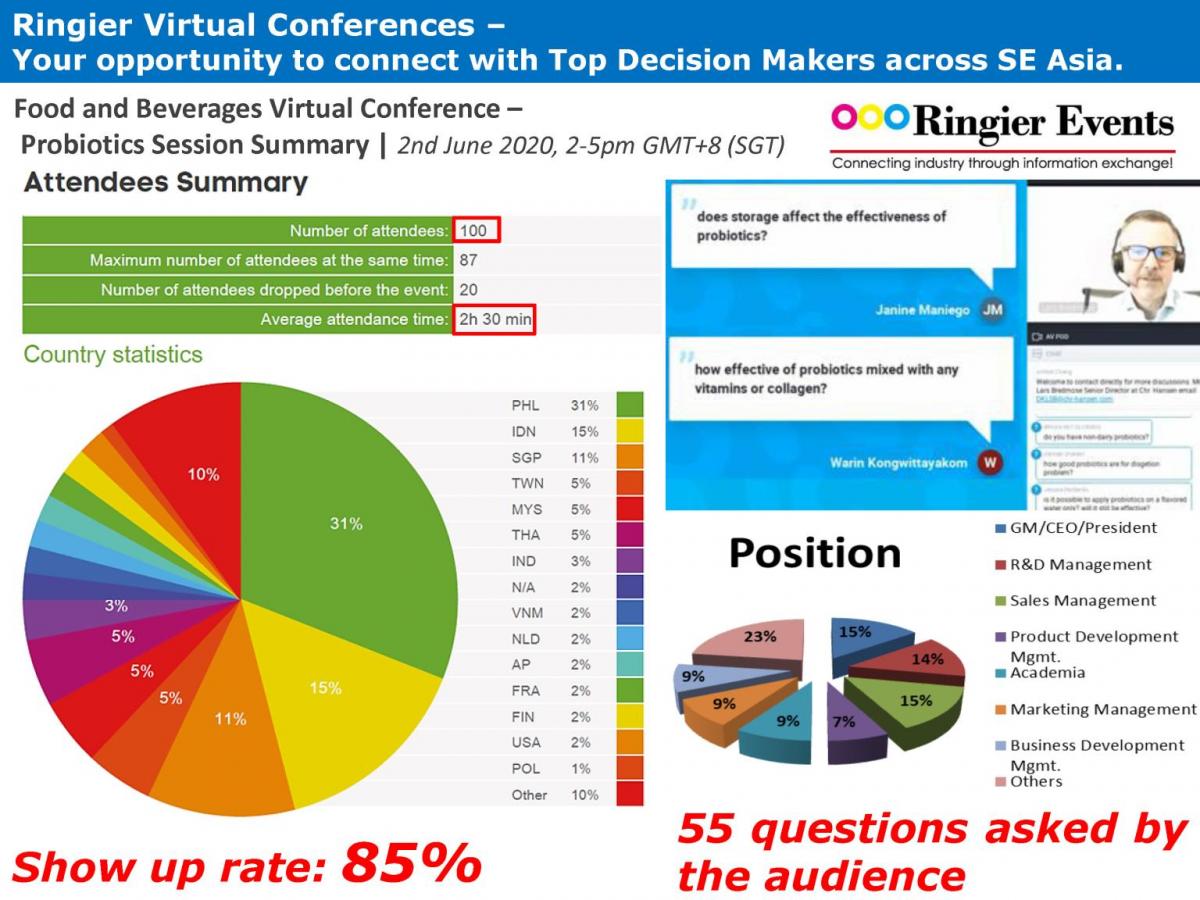 Ringier Events hosted its first virtual conference on the topic of probiotics on 2 June 2020. The three-hour webinar titled, Probiotics – the Bull Market of Asia's F&B Sector, aimed to communicate the developments in this fast-growing health category, and to present food and beverage manufacturers with the different types of probiotic strains currently available to Asia's F&B industry. The event had presentations from Chr. Hansen, Anlit, FrieslandCampina, and Azelis.
In general, consumers are familiar with probiotic strains that aid digestive health, these having been popularised by brands like Yakult and Danone for years. Interest in food and beverage products containing probiotics that support immune health is also increasing as consumers seek better food choices. Curiosity about the effects of probiotics also grew recently when it was reported that the best natural defense against COVID-19 is a strong immune system. The coronavirus threat is seen to drive demand even further.
Lars Bredmose, Senior Director at Chr. Hansen, gave a live presentation on "Probiotics for immune health – making the right choice." As more clinical trials and research results on the benefits of probiotics are released, many food manufacturers want to take advantage of probiotics, but on the choices of strains to incorporate in their products is another question.
For children's nutrition, David Gabbay, VP Sales & Marketing of Anlit, spoke on Probiotics Applied in Chews. Based in Israel, Anlit specialises in dietary supplements that are delivered in pectin-based gummy bears or other chewables, making nutritional ingredients easy for children to consume.
Ringier also invited Ms. Nguyen Thuy Linh, who is Product Development Specialist at FrieslandCampina for AMEA (Asia Pacific, Middle East and Africa). Her presentation, The Invention of Probiotic Bread Beverage, refers to the concept of using bread as a base for a probiotic beverage, a discovery with colleagues at the National University of Singapore. She emphasized that apart from creating a healthy beverage, the process helps bakeries reduce waste since unsold bread can be used to make the probiotic.
Azelis, the provider of speciality chemicals and food ingredients, also took part in this online conference.  Mr Vikash Raj, the Market Segment Director for Food & Health APAC, presented on the very timely topic, Health, at heart of consumers' food choice – giving manufactures insights on formulation.