Personal care technology summit: Trends, ingredients, and processes
Date Published:6/22/2023 03:06:58 下午
The ASEAN Personal Care Technology Summit which took place from 15-16 June 2023 in the Pullman Bangkok Grande Suk
The ASEAN Personal Care Technology Summit which took place from 15-16 June 2023 in the Pullman Bangkok Grande Sukhumvit hotel, provided conference delegates with different facets of the market, with a focus on what matters the most to the future of the industry – innovation in formulation, sustainable production and packaging, and upcoming consumer trends.
Targeted mostly at processors and manufacturers that aim to adopt to new trends, and utilise new materials, the agenda included presentations on ingredients that address issues such as skin ageing, anti-inflammation/healing, as well as processing technologies packaging improvement.
For its first-ever conference for personal care in Thailand, Ringier Events had the support of the Thai Spa association, the Thai Cosmetic Cluster Association, and the Thai Design Packaging Association. The agenda included presentations from these associations as well as from Shenzhen Diekmann Biotechnology, Spec Chem Industry Inc, Shanghai Chengxing M&E Co., Ltd, Guangzhou NAGO Biotechnology, and IRA Natural Products. Experts from the National Nanotechnology Center (NANOTEC), the Kasetsart University, and Mahidol University were also invited to speak at this event.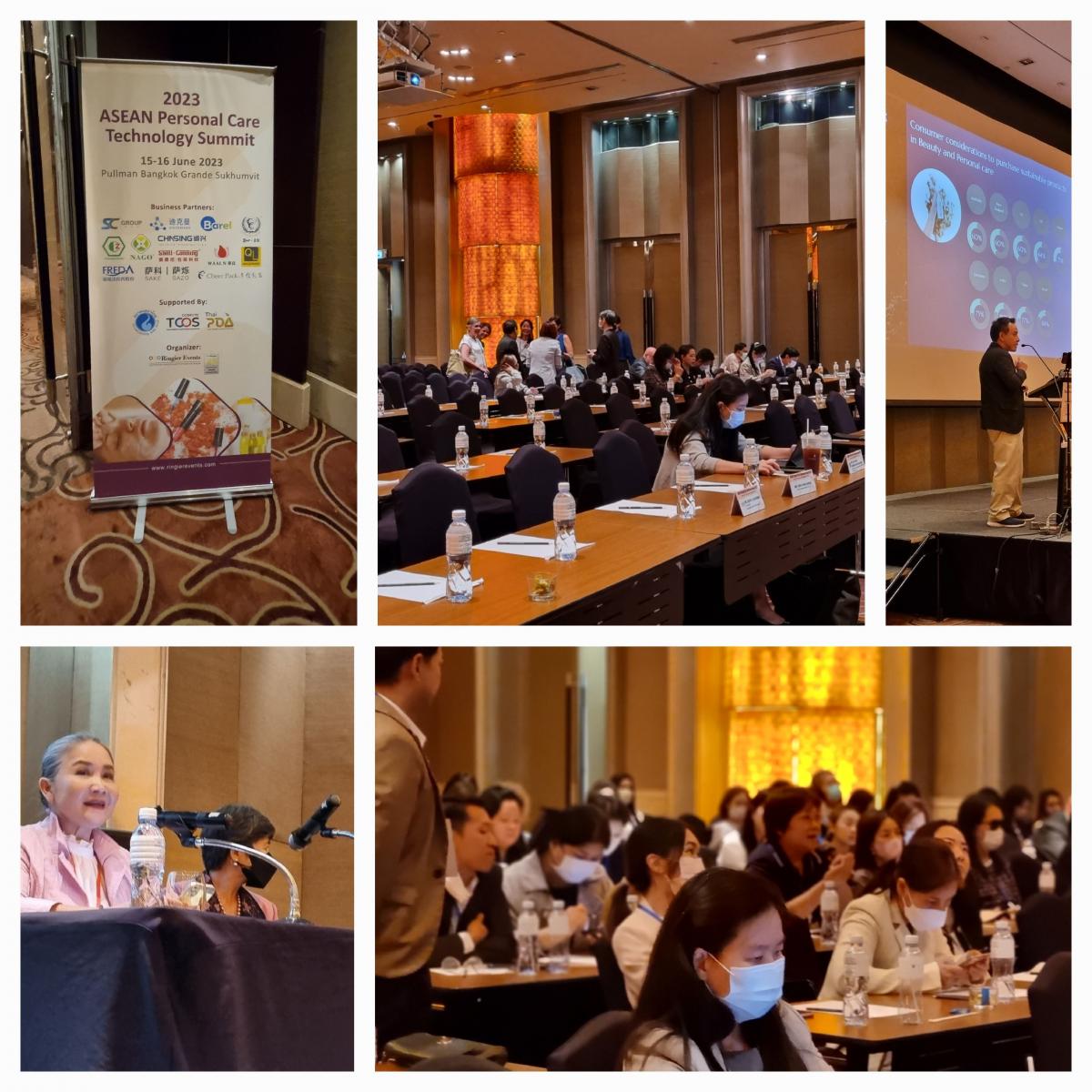 The ASEAN Personal Care Technology Summit was also supported by Ringier's business partners: Shanghai Coachchem Technology Co., Ltd; Guangzhou Barel Industrial Co.,LTD; Guangdong Qiaolei Packaging Technology Co.; Guangzhou Sake Trading Co., Ltd.; Guangzhou Nago Biotechnology Co. Ltd; Shanghai Chasing M&E Co. Ltd; Guangxi Chang Zhou Natural Pharmaceutical Co., Ltd;  Spec Chem Industry Inc.; Wanwu, Guangzhou Shell Conning Mechanical Equipment Limited; Shandong Freda Biological Co., Ltd; Shenzhen Dieckmann Tech Co., Ltd., and Guangzhou Cheers Packing Co, Ltd.
Thailand has become the go-to country for international brands that aim to expand their cosmetics and personal care business in Southeast Asia. Revenue from Thailand's beauty and personal care market continues to grow an estimated 22.27% between 2023-2027, to reach USD7.0 billion, according to Statista. The country's skincare and cosmetics product sectors are one of the largest and vibrant in the region. The market for the prestige category of cosmetics and fragrances alone amounted to USD487 million in 2022.
But as the market grows, competition is also becoming fierce. By understanding what local consumers want, companies can leverage their capabilities to meet demand for products that are sustainable, efficacious, made of safe and natural ingredients, as well as cost-friendly. While this may be easier said than done, many new ingredients and technologies for better formulation, packaging, and supply are available. Many of these are meant to address the challenges that manufacturers face to become competitive.
Sustainability for instance is a consumer expectation, but manufacturers need to know how to deliver this message across to their customers. In his presentation, Sunai Wachirawarakarn, president of the Thai Spa Association, a non-profit organisation that ensures the development of the local spa and wellness industry, profiled the 'conscious consumer'. Citing Bain & Company, he shared that 93% of sustainable consumers in Thailand are willing to pay more for sustainable products; 48% plan to spend more on sustainable products in the future, and 43% said health benefits are the major consideration for their purchase.  When it comes to ESG priorities, Thai consumers ranked natural ingredients, healthy ingredients, and organic in this order. Also citing Skin Deep Beauty, he said 9 out of 10 shoppers believe that sustainability and ethics-related considerations are important when they are buying beauty and wellness products; 79% of shoppers doubt whether to trust the industry's sustainability claims. He also shared that the main sources of information on sustainability are on-pack information, company website, and shopper review. Mr Sunai also reminds companies to be honest when declaring sustainability claims.
IRA Natural Product Co Ltd, a producer of lip care products in Thailand since 2016, prides itself in its sustainable practices. In her presentation, CEO Thanida Doltunyapornpakapob shared these practices hoping to inspire SMEs. From using only natural ingredients like bamboo stem and almond shell powder (lip care products are free from paraben, petroleum, silicone, etc) and paperboard for packaging, as well as engaging in projects that give back to society, IRA shows that a company of any size can be sustainable as long as they can be serious about setting up SDGs (sustainable development goals), measuring their impact, finding suppliers that fit with the company's goals, and communicating these goals with the team.
While in ingredients and formulation, Shenzhen Dieckmann Biotechnology Co., Ltd stands out as a source of plant-derived ceramides which help in the improvement of skin elasticity. Dieckmann is involved in R&D and production of functional molecular components through modern synthesis, extraction, and enzymatic catalysis. Their products include cosmetic active ingredients, functional health food/dietary products, as well as flavors and fragrances.
According to R&D Director of Dr. Liu Ye, the company's plant-derived ceramides come from a variety of sources such as prickle kernel, silymarin, evening primrose, avocado, grape, and flax. The olive ceramide (olive oil + ceramide) for example is the first plant-derived ceramide in China.
Also sharing information on anti-ageing solutions, Dr. Tawin Iempridee, senior researcher at the National Nanotechnology Center (NANOTECH), National Science and Technology Development Agency (NSTDA), was also invited to speak at this event. With a PhD degree in cancer biology from the University of Wisconsin-Madison, his interests lie in cancer and anti-ageing. He spoke about ZenoLase (cosmetic active ingredient), ZenoRevive (bright serum), RejuveLight (cosmetic active ingredient), and ZenoClear (supplement).
For example, ZenoLaze is a senolytic agent that targets senescent cells, said to be as potent as an anti-cancer drug and more potent than commercially senolytic active benchmark. Among other features, it has a high skin lightening potency, stimulates collagen production by 94%, and is better than Retinol, according to Dr Tawin in his speech.
Microecological skincare, a topic presented by Dr. Nichamon Samantarat, medical director at NICHE Natural health, is also trending in the industry.  She talked about the skin microbiome, probiotic cosmetic products, and postbiotics that provide moisture to skin and antioxidant properties. Dr Nicha also shared the industry challenges in creating probiotics skincare, from technical difficulties with using probiotics since these are sensitive to moisture and preservatives, to regulation.
The presentation from Guangzhou NAGO Biotechnology focused on the application of plant bacteriostatic technology in cosmetics. Ms Zhou Xiaoting, technical manager at NAGO, shared some of the latest information in this field. 
From Spec Chem, marketing director, Olivia Tong provided an overview of how the company's bio fermentation works and its benefits, as well as explained how two of ingredients – SpecBio® SL and the SpecBio® Ectoine – are effective in treating the problems associated with sensitive skin such as itching, dryness, and irritation.
(The second part of this 2-part report will be on packaging)