Journey to flexible and green production solutions for automotive & motorcycle
Date Published:11/29/2021 02:11:15 下午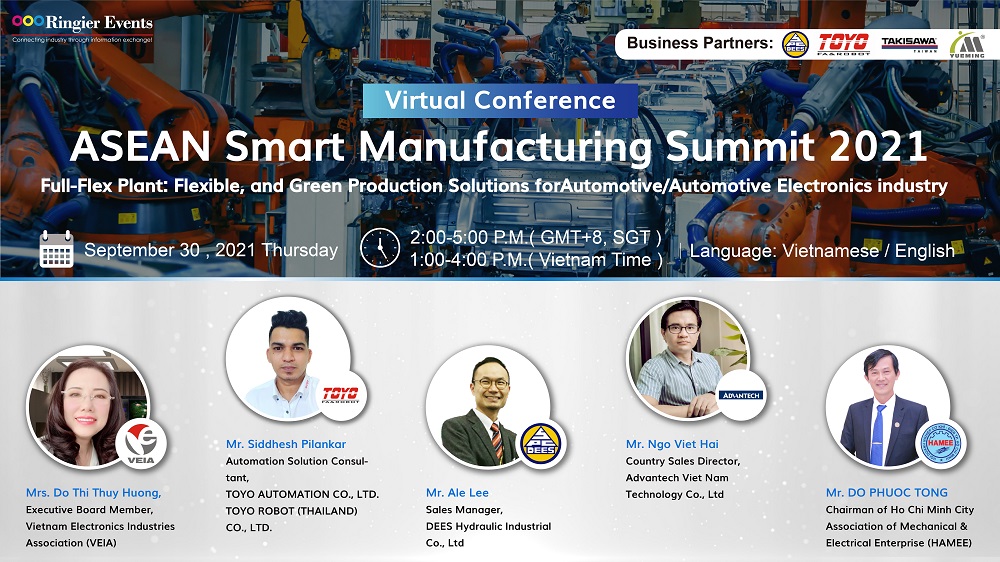 The ASEAN Smart Manufacturing Summit 2021— Full-Flex Plant: Flexible and Green Production Solutions for Automotive & Motorcycle /Automotive Electronics Industry held on September 30, 2021 gathered industry experts from around South East Asia for insights into the latest automotive manufacturing developments and trends with a focus on artificial intelligence, automation and robotics.
Vietnam has been shifting to advance technology industry. The industrial production sector needs to increase the proportion of processing and manufacturing, while reducing outsourcing and assembly to support domestic production and increase Vietnam's export and localisation rate. Therefore, Vietnamese manufacturing companies will need to utilise high-performance processing and intelligent manufacturing technologies; such as advanced analysis, ultra-precision processing technology, artificial intelligence, automation and robotics, etc. to achieve excellent supply chain and operational business, growth and gains to surpass competitors.
Speaker sessions
Speakers from associations, automation and machine tool powerhouses such as Ho Chi Minh City Association of Mechanical – Electrical Enterprise (HAMEE), TOYO Robot (Thailand) Co. Ltd / TOYO Automation Co., Ltd, DEES Hydraulic Industrial, Vietnam Electronics Industries Association (VEIA) and Advantech Viet Nam Technology Co. Ltd offered industry insights during keynotes, panel discussions and presentations.
Speakers also shared updates on the progress of automotive industry in South East Asia in their digital transformation, as well as their work to further the collective interest of players in all segments of automotive in the region.
Connect for Business
ASEAN Smart Manufacturing Summit 2021 virtual booths, meet the experts sessions and online business matching program ran throughout the program.
Showcasing the latest innovations and solutions from DEES Hydraulic Industrial, Taiwan Takisawa Technology, Hans YUEMING Laser and THACO Auto Limited Liability, the ASEAN Smart Manufacturing Summit 2021 virtual booths connect exhibitors with prospective customers for new business opportunities and partnerships. The online business matching program helped connect exhibitors with potential technical buyers for dedicated one-on-one meetings.
DEES Hydraulic Industrial is well regarded in the metal forming via hydraulic press machinery manufacturing industry. Its main products include deep drawing press, die spotting, press brake and related hydraulic press machine. DEES has devoted significant resources and accumulated experiences to increase manufacturing flexibility, construct global distribution networks, assure quality standards, and continue to reduce manufacturing cost.
TOYO Robot has kept the core concept of continuously innovating. Its full range of products allows all industries to improve production performance and increase functionality. Also a large number of parts are made in-house to allow customers to have the right product with high C/P value as well.
Taiwan Takisawa Technology specialises in manufacturing CNC Lathe machine and PCB driller for worldwide markets in its Taiwan factory. In terms of machine tool line, there are small, medium and large CNC Lathe, and multi axis high speed turning/milling center. Taiwan Takisawa has established its technical capabilities through cooperation with "Takisawa Machine Tool Co., Ltd" in Japan.
Han's Yueming Laser supplies comprehensive laser solutions in China located in Songshan Lake Hi-tech Industrial Development Zone, surrounded by hi-tech enterprises of Top 500, Han's Yueming Laser has developed steadily and benefits by the diverse IT and Hi-tech human resource in Guangzhou, Shenzhen, Hong Kong, as well as Dongguan's advancement in the manufacturing, light industry, machinery & electronic products.
Thaco Auto has established a complex of 12 parts components companies that produce automotive parts and mechanical parts for other industries with 4 main product groups, such as mechanical components, automotive interiors and exteriors, electric electrical refrigeration products and chemicals.