ASEAN Smart Factory Summit 2021 showcases opportunities for the automotive industry
Date Published:11/29/2021 02:11:22 下午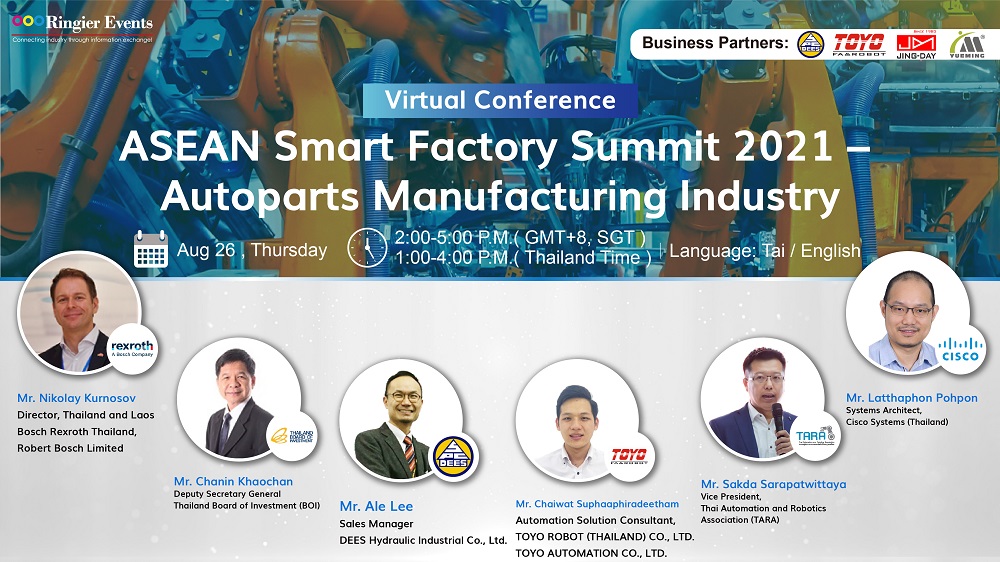 The ASEAN Smart Factory Summit 2021- Autoparts Manufacturing Industry was held on August 26, 2021. Organised by Ringier Events, about 200 registered for the event. The top three country delegate includes Thailand, Vietnam and Indonesia. The conference was supported by Thailand Government Unit and Associations, which include Thailand Board of Investment (BOI) and Thai Automation and Robotics Association (TARA).
Thailand has become the main preferred destination for global auto parts manufacturers to reconsider their production bases in the ASEAN region. As Thailand's auto parts production is turning to the use of automated systems, the summit introduced the latest smart technologies that can change the industrial practice in the automobile manufacturing industry, application cases, and potential business opportunities based on Thailand's Industry 4.0.
The conference provided a platform for participants to learn from 6 technology leaders sharing their knowledge and experiences about key technologies.
Mr. Chanin Khaochan, Deputy Secretary General of Thailand Board of Investment (BOI) talked about the current challenges faced in Thailand automotive industry after Covid-19. Mr. Chaiwat Suphaaphiradeetham, Automation Solution Consultant of TOYO Robot (Thailand) Co., Ltd/TOYO Automation Co., Ltd took its audience to the next level with smart manufacturing solutions. Mr. Ale Lee, Sales Manager of DEES Hydraulic Industrial Co., Ltd explained the the outlook of DEES hydraulic presses. Mr. Nikolay Kurnosov, Director for Thailand and Laos at Bosch Rexroth Thailand / Robert Bosch Limited presented the Factory of the Future - Global Trends, Local Use Cases. Mr. Sakda Sarapatwittaya, Vice President of Thai Automation and Robotics Association (TARA) spoke about the supply chain: connected, cognitive, comprehensive, collaborative, and cyber-aware. And finally, Mr. Latthaphon Pohpon, Systems Architect from Cisco Systems (Thailand) discussed smart manufacturing with 5G/AI and edge computing.
Delegates were allowed to experience a series of demonstrations of the latest technologies from our business partners: DEES Hydraulic Industrial, a well-regarded company in the metal forming via hydraulic press machinery manufacturing industry. DEES' main products include deep drawing press, die spotting, press brake and related hydraulic press machine. The company has devoted significant resources and accumulated experiences to increase its manufacturing flexibility, construct global distribution networks, assure quality standards, and continue to reduce manufacturing cost as well as turn-around time to ensure that Dees has the qualifications to acquire high performance manufacturing equipment contracts as well as full plant automation design to coordinate each function.
TOYO Robot (Thailand) Co. Ltd/TOYO Automation Co. Ltd's full range of products improve production performance and increase functionality. TOYO is Taiwan's first single-axis and Cartesian robots brand. In addition to electric grippers, the company's full range of product lines also includes single-axis actuator modules, electric cylinders, desktop robots, linear motor actuator modules, and AGV systems.
Jing-Day Machinery Industrial specialises in rubber injection moulding machine. It specialises in vertical injection moulding machines and hydraulic moulding machines. Since founding in 1983, Jin-Day has been continuously improving LSR moulding knowhow, and developing different types of customised machinery and equipment for clients.
GD Han's Yueming Laser Group Co., Ltd is a hi-tech enterprise which supplies comprehensive laser solutions in China. Yueming has established modern factories in Dongguan, Shanghai and Jiangsu with over 100 automated and high precision processing equipment, total floor area of 110,000 square meters and with more than 700 well trained workers.
Great Wall Motor Thailand's Rayong plant is the company's second full-production manufacturing outside China, constructed under the concept of "Intelligence, Safety, and Green."  This factory serves as its key production base for the right-hand-drive vehicles in the Southeast Asia market.
To thrive in the coming decade and beyond, companies must look beyond short-term performance and focus on building resilience to better withstand unpredictable disruptions to their businesses, the automotive industry, and global economies.