ASEAN Food and Beverage Summit 2020 highlights
Date Published:12/3/2020 04:12:04 下午
Every year, Ringier Events holds the ASEAN Food & Beverage Manufacturing Summit in Jakarta, with about 200 delegates in attendance. 
Every year, Ringier Events holds the ASEAN Food & Beverage Manufacturing Summit in Jakarta, with about 200 delegates in attendance. To continue the momentum achieved in bringing F&B companies together over the past few years, the 2020 conference was conducted virtually on September 30 (1-5 pm/Jakarta), with the support of the Indonesian Food and Beverage Association (GAPMMI), the Indonesia Packaging Federation (IPF), and Indonesia's halal certifying body, The Assessment Institute for Foods, Drugs and Cosmetics Majelis Ulama Indonesia (LPPOM MUI), all of whom provided their input and expectations for the year ahead.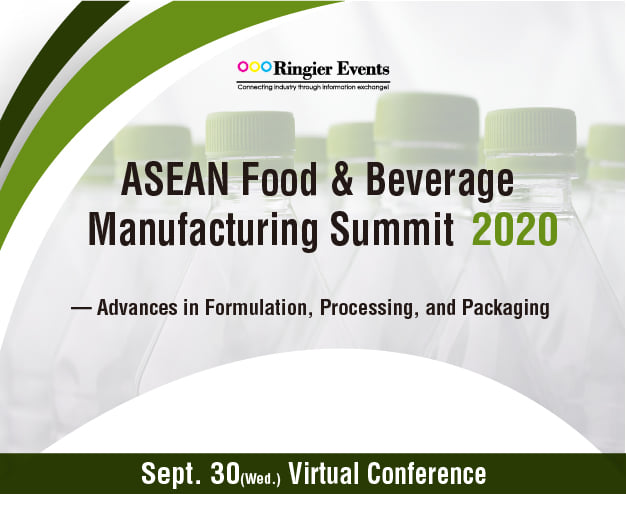 This year's ASEAN Food & Beverage Manufacturing Summit was made possible through the sponsorship of food flavoring expert, Guangzhou Flower Flavours@Fragrances; ingredients company, Gen Asia Biotech; food processing machinery manufacturer, Kinn Shang Hoo Iron Works; and specialist in thermoplastic elastomers (TPE) raw materials, Everlon Polymer Co.,Ltd.
Coca-Cola, Unilever, San Miguel Foods, Windmöller & Hölscher Indonesia, ABC President Indonesia, Henkel, DKSH, Avery Dennison, and BASF, were among the attendees. 
With the theme "Advances in Formulation, Processing, and Packaging, the event covered not only technology but overviews from different sectors as companies look forward to 2021. Association representatives Adhi S. Lukman chairman of GAPMMI, Henky Wibawa, Executive Director of the IPF, and Ms Muti Arintawati, Vice Director of LPPOM MUI, shared updates relevant to the industry.
The focus on the food and beverage industry in Southeast Asia, and in particular Indonesia, remains strong. In 2019, Indonesia's GDP growth was USD1.1 trillion, with food expenditure per capita (GDP) at 49.14%, and of which processed foods contributed 17.26%, according to Mr Adhi Lukman, chairman of GAPMMI. Investments in Indonesian food industry is within the top 5 even as direct domestic investment (DDI) was down 6.4% and foreign direct investment (FDI) down 2.7% in 2019. From January to June 2020, DDI and FDI for food totalled 29.6 trillion rupiah, Mr Lukman quoted the BKPM figures. In Q1 2020, the country's economy grew 2.97%, while growth of the food industry was at 3.94%; in Q2, economic growth recorded -5.32%, while food still saw 0.22% growth.
According to Mr Lukman, certain trends affecting the food industry came about during the pandemic: increased consumption of milk, spices, cooking oil, flour, biscuits and nutritional foods including organic foods; disruption in the supply chain of fresh foods; drop in sales due to fewer festivities; increased focus on food safety; more home-cooking, and surge in e-commerce. Many of these also resonate with consumers in other parts of the world.
Industry sectors expect the Indonesian market to take up again after months of disruption due to the pandemic, and the hurdles companies are still facing, such as the interrupted supply of raw materials and ingredients, slow distribution of goods, and certain businesses unable to cope.
Looking ahead, he also shared what would be the new normal for the food industry. Among these are the internal changes that management has to conduct to ensure safety; increased use of automation, robotics, and adoption of Industry 4.0 to reduce human to human interaction; continued improvement of worker competencies; increased focus on food safety and hygiene, quality, and development of functional and nutritious food; finding new ways of marketing; changes in distribution channels; reduced brand loyalty.
During his presentation, Mr Lukman saw it fit to discuss the sanitation challenges in the F&B industry as lessons learned even post-COVID-19. While Indonesia's hygiene and sanitation standards for the industry are adequate, he said that the problem lies in the implementation and compliance. Here companies are expected to ascertain their workers are healthy and that food safety management programmes are carried out. Products must meet the government's guidelines on safety, and companies must take the initiative to control food safety along the supply chain using traceability and information systems internally and externally (end to end).
Mr Lukman also shared Indonesia's vision for 2036 and 2045 sees the GDP at USD13.162 thousand and 23.199 thousand respectively. Population by 2045 is expected to reach 319 million (National Statistics Agency), therefore he advises industry to be ready for demand, and must also be able to adopt and change according to shifting patterns of life and business in reference to distribution channels, food safety and resources, packaging, and brand loyalty.
Updates on Halal
As the global Muslim population continues to rise, consumer spending on halal lifestyle is expected to reach USD 2.6 trillion in 2020, said Muti Arintawati Vice Director of LPPOM MUI, the non-governmental body formed by Majelis Ulama Indonesia in 1989 to protect Muslim consumers in consuming halal products through halal certification.
Increased consumer spending shows the growth potential of halal food and other halal products. In Indonesia, all food products entering the country are expected to be halal – that means made with halal raw materials, products have not been contaminated by haram/najis materials, and that the entire production process complied with halal requirements. Product labels must not use names, designs or characters that go against Islamic teaching.
Ms Muti who has been a halal auditor since 2010 provided a global picture of the halal food market, noted the growing demand for convenience/packaged food. The market is driven by continuing economic development in Muslim countries, and is forecast to reach USD2,242.30 billion in 2021.
Since October 2019, Indonesia has required all products that enter, circulate, and are traded in the country must be halal certified. Ms Muti shared the various regulations that are in line with this requirement. In Indonesia, a company its product must register with the local regulatory institution, BPJPH, the Halal Product Assurance Agency. Then the application goes through the LPPOM MUI for assessment, and when all is approved, the BPJPH provides the halal certificate. Overseas halal certifying bodies (CB) are also recognised by Indonesia as long as they comply with BPJPH's requirements. Halal certificates that recognised CBs issue must be registered with BPJPH before products are distributed in Indonesia.
Staying on trend with sustainable packaging
Companies cannot escape the assessment of consumers when it comes to sustainability, caring for environment and product safety. New developments in sustainable packaging allow food and beverage manufacturers – even end-consumers – to be part of the circular economy. In his presentation, Henky Wibawa, Executive Director of the Indonesian Packaging Federation updated Ringier webinar attendees on the improvements in the functionality of sustainable packaging, citing examples as he touched on the key issues, challenges and opportunities in this sector. One of the topics he brought up was the concept of life cycle thinking which is "a way of thinking that includes economic, environmental, and social consequences of a product or process over its entire life." Mr Wibawa linked the value of using life cycle assessment in the process of eco packaging design. He also presented on the objectives of the reusing and recycling, the responsibilities of stakeholders, and the importance of collaboration and innovation in accelerating circular economy initiative.
Blockchain technology
Explaining the process and advantages of blockchain technology, Mark Toohey, Executive Director of Aglive talked about the company's Paddock to Plate Platform and comprehensive on-farm solutions and traceability, as examples, and how such technologies are crucial today in observing better food safety, preventing recalls, and as Mr Toohey stresses, "to restore the integrity and credibility to global supply chains."
Producing high quality ingredient water 
Thomas Debruyne Market Manager (F&B) & Digital Transformation Manager, Asia Pacific at Veolia Water Technologies also joined the webinar. As an introduction, Mr Debruyne said that in 2019, Veolia Group through its technologies, supplied 98 million people with drinking water, and 67 million people benefited from the Group's wastewater services.
Water as a food or beverage ingredient has to be of high quality because it has a direct impact on the taste, odour, appearance, and overall quality of the end product. Furthermore, F&B manufacturers have to guarantee they use consistent and contamination-free ingredient water. Legally, manufacturers must comply with water quality guidelines such as those set by the World Health Organisation. They are also expected to comply with business requirements that make sure water is consistent in quality, free of contaminants, has no effect on taste, etc.
Mr Debruyne's presentation centred on how Veolia can provide food and beverage manufacturers with high-quality ingredient water consistently, and how to help them maximise production uptime, optimise water usage, and ensure they are compliant when it comes to their wastewater discharge.
He shared the technologies in ensuring clean water, namely pre-treatment, filtration, active carbon filtration, cartridge filtration, UV filtration, recovery reverse osmosis, disinfect/sanitation of distribution loop, and reminded participants that the process downstream to distribute end water product in the different production lines is as important as the production to ensure water is free of contaminants.
The company's NURION™ reverse osmosis (RO) system is designed to produce high-quality ingredient water, effectively removing chlorate ions that may be in the water before the water is incorporated in the product or for use as a final rinse of processing equipment. Its components do not leach phthalates or other contaminants into the product. This system is ideal in the production of soft drinks and infant formula.
The plant-based food conversation
A panel discussion, titled "Start-ups as the spearhead of F&B Innovations" was led by Dr Matthew Zhao, Food Scientist working at Big Idea Ventures, a venture capital firm investing in future food technologies in the alternative protein ecosystem. His technical expertise spans post-harvest technology, food packaging and processing, and shelf-life evaluation.
Sharing their insights and experiences in the plant-based foods segment were Alejandro Cancino, the CEO/Co-Founder of Fenn Foods, a plant-based food startup in Australia; Betty Lu, the CEO of Confetti Fine Foods Private Limited,  a manufacturer of snacks made from "ugly" produce, to save fresh fruits and vegetables that would otherwise go to waste; and Stephen Co, the founder & CEO of WTH Foods, a plant-based alternative protein company in the Philippines. WTH which stands for What the Health, offers "meaty" tasting food made from plants. It is open to collaborations with chefs and companies.
In a previous Ringier conference, Big Idea Ventures did forecast plant-based foods to be become a massive market even in Asia. Sure enough many companies are looking to add plant-based food and beverages like plant-based yogurt in their lineup. The growth is also supported by the launch of many ingredients that help add texture, flavour, and colour to plant-based. - By Marijo Gonzalez