ASEAN Automotive & Motorcycle Parts Manufacturing Summit 2020
Date Published:12/2/2020 01:12:41 下午
ASEAN Automotive & Motorcycle Parts Manufacturing Summit 2020 virtual conference, organised by Ringier Trade Media Ltd, took place on October 23, 2020.
ASEAN Automotive & Motorcycle Parts Manufacturing Summit 2020 virtual conference, organised by Ringier Trade Media Ltd, took place on October 23, 2020. Over 150 participants attended the virtual conference. It covered up-to-date movements of the automotive and motorcycle industries in Indonesia, and showcased the latest innovations and solutions to enhance manufacturing at full steam. The summit was hosted by Mr. Timothy Bryx, Regional Project Manager, Ringier Events.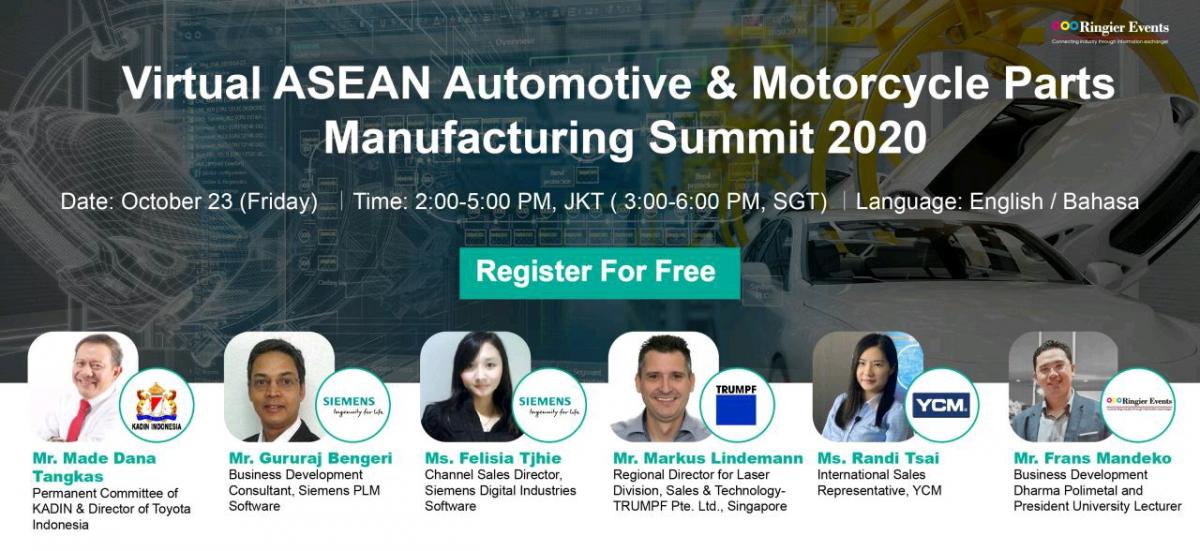 Driven by ambitious government targets, the Indonesian automotive industry is shifting into a higher gear, with plans for the industry to overtake Thailand as the largest car production centre in the ASEAN region. As a key pillar of the Indonesian economy, the car manufacturing segment continues to attract much-needed foreign capital, while also boosting employment figures. Meanwhile, the Indonesian motorcycles industry is the third in the world since almost twenty years. Representing the primary private transporting sector for people and goods and having a size 6 times bigger than the automotive industry.
The first speaker, Mr. Made Dana Tangkas, Permanent Committee of Kadin & President of Institut Otomotif Indonesia (Indonesia Automotive Institute), talked about the Current Status and Future Development of Automotive Manufacturing in Indonesia.
Next is a technology presentation on "Agile Production Scheduling and Control to mitigate production disruption," by Mr Gururaj Bengeri, Business Development Consultant, Siemens PLM Software & Ms Felisia Tjhie, Channel Sales Director, Siemens Digital Industries Software.
Another technology presentation this time by Trumpf. Mr Markus Lindemann, Regional Director for Laser Division, Sales & Technology discussed Laser Technology in E-Mobility.
A panel discussion chaired by Kathryn Gerardino-Elagio explored questions, such as 1) How to ramp up production again after the lock-down. 2) How to stabilise sales and return delivery system to full working order in a short time? 3) What is the biggest challenge for eMobility at the moment? 4) The future of electric cars.
After the panel discussion was another technology presentation by Ms. Randi Tsai, International Sales Representative from YCM. She talked about: Case Sharing of Smart Manufacturing Solution by YCM.
The last speaker, Mr Frans Mandeko, Business Development Manager of PT Dharma Polimetal Group presented the "Shifting trends in Industry 4.0 in Indonesia."
The response was that despite the pandemic, the automotive & motorcycle parts manufacturing industry was a key benefactor of the effect of business and consumer demand for everything digital and virtual, and while the pandemic has been a big issue for 2020, the long term strategic outlook was good.
Feedback and questions raised from attendees showed that even throughout this challenging time, the desire to interact, network and communicate with other professionals and experts remains strong.
The experience over this year has shown it is certainly different, but let's take that as a positive learning point. Things will never go back a 100% to what it was before the pandemic. We have learned how to achieve the same results or be more productive. It's a change which we will learn from.
With a fresh approach to networking, learning and advancing the industry, this virtual experience sets the stage for meaningful connections and productive meetings.