Combine solenoid valve, flow meter, pressure sensors, leakage monitor and other electronic sensor with the diaphragm pump, be one intelligent system.
Then develop an APP, can use this APP to control the pump flow rate, working pressure, leakage monitoring, stroke times, pump on or off etc.
Thumbnail (228 x 152 px):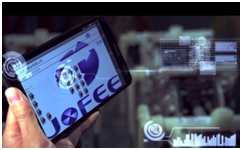 Company:
SHANGHAI JOFEE PUMP CO., LTD.
Innovation Awards:
2015 Ringier Technology Innovation Awards – Pumps & Valves